BAMANA JO MATERNITY FIGURE 55, Mali





Photographs © Tim Hamill
BAMANA
JO MATERNITY FIGURE 55
29" high x 6" wide x 8" deep
$500
Despite its appearance, this Bamana figure shows no evidence of age or use and was probably made to be sold.
There are many cracks on the head, torso and base but they are stable.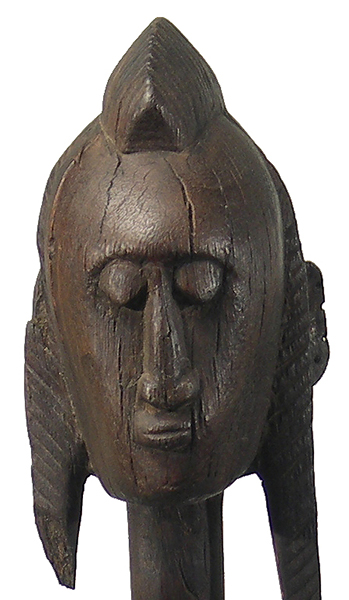 Figures were carried in dance ceremonies by new members of the Jo association. Large seated figures of the Jo association were kept in shrines, and aided women who sought their help. Periodically they were brought out for fertility ceremonies. Figures represented the Bamana idea of beauty.
GO TO BAMANA JO MATERNITY FIGURES PAGE
GO TO FAMILY MATTERS EXHIBITION PAGE
GO TO MATERNITY FIGURES PAGE
GO TO COUPLES PAGE
GO TO BAMANA BOLI FIGURES PAGE
GO TO BAMANA KOMO/KONO MASKS PAGE
GO TO AFRICAN FIGURES PAGE
GO TO MASKS AND HEADS PAGE
GO TO AFRICAN METALWORK PAGE
GO TO NEW ADDITIONS PAGE
GO TO AFRICAN STOOLS PAGE