POTO CURRENCY 15, DRC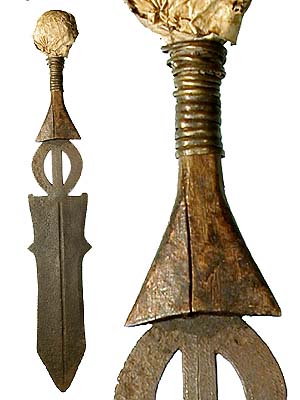 Photographs © Tim Hamill
POTO
CURRENCY KNIFE 15
27", $200
SOLD
The handle has lost all its original fur. It currently consists of a leather-wrapped ball stuffed with straw.
These double-sided forged iron knives exist in a variety of shapes. They were originally used for ceremonial purposes and probably date from the 20th century.
Unlike many galleries which grind down and polish the blades, we have left these with the rusty patina intact.
GO TO GEOMETRIES EXHIBITION PAGE
RETURN TO CURRENCY EXHIBITION PAGE
RETURN TO METALWORKS EXHIBITION PAGE
RETURN TO METALWORKS EXHIBITION PAGE 2
[RETURN TO HOME PAGE] [CONTACT GALLERY] [ORDERING] [HYPERLINKS]
b0307