DJENNE TERRACOTTA VESSEL 1, Mali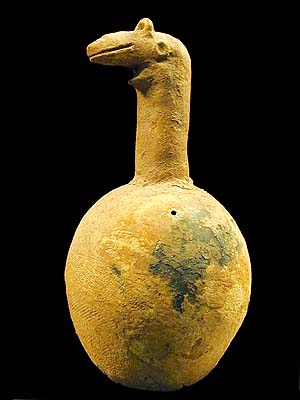 Photographs © Tim Hamill
DJENNE
Vessel 1
17" h
$1000
A hairline crack at the juncture of the head and the rounded vessel may indicate that the pieces were assembled from two different objects. There is another small hole (slightly larger than the one visible in the photo) in the rounded vessel.
NOTE: Our photos make the pieces appear to have a golden/yellowish tone when they are actually a much redder brick-toned color.
Little is known of the Djenne civilization (ca. 12th - 16th centuries), precursors to the Dogon in Mali.
These pieces have not been tested by thermoluminescence due to the substantial fee involved.
They are fragile and shipping would have to be handled by Craters and Freighters.
RETURN TO AFRICA UNEARTHED PAGE
[RETURN TO HOME PAGE] [CONTACT GALLERY] [ORDERING] [HYPERLINKS]