DOGON HOUSE DOOR 15, Mali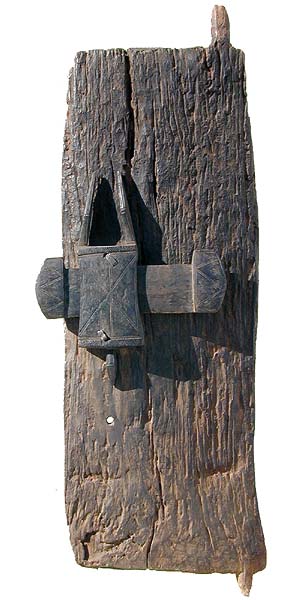 Photographs © Tim Hamill
DOGON
HOUSE DOOR 15
46.5" high
$6000

This door has been vetted as dating from the late 19th century.

The doorlock is newer than the door and has been removed. since this photograph was taken.
The Dogon are justifiably famous for their doors. Whether complex or plain, figurative or abstract, solid or weathered by the elements and use, all are constructed of 2-3 wood panels joined by iron clips. Many have their original doorlocks, All of the doors are hung as wall pieces, but could be mounted on bases as sculptures. The backs are usually plain and those views are not shown unless it is critical to the piece. All were photographed in direct sunlight, which worked well for some and not for others. The splits or gaps are shown clearly; when hung those areas are shadowed and are not as noticeable. Many of the larger pieces are difficult or expensive to ship. The few doors that are fragile are described as such. The doorlocks on the doors all slide but may not lock.
GO TO ART OF DOGON EXHIBITION PAGE
GO TO AFRICAN DOOR EXHIBITION PAGE