DOGON GRANARY DOOR 35, Mali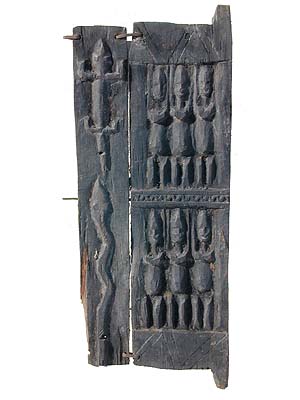 Photographs © Tim Hamill
DOGON, GRANARY DOOR 35, 18.5", $100, Mali
These doors protected the window-like opening into each family's grain storage building, and used a simple sliding door lock. Primordial beings, ancestors, Kanaga masks, sun lizards and scenes of life symbolically served to protect the entrance by making it sacrosanct. The low reliefs are carved on several panels, held together by iron staples.
Our selection ranges from simpler old ones to the complex ones popular today. All of these are wired, ready to hang, and are shippable, unlike many of the large doors.
This small fragmented door shows clearly the wood sticks used to hold the panels flat and the iron staples used to hold them together.
[RETURN TO DOGON GRANARY DOORS PAGE]
[GO TO DOGON HOUSE DOORS PAGE]
[RETURN TO AFRICAN DOORS PAGE]
[RETURN TO AFRICAN DOOR EXHIBITION PAGE]
[RETURN TO HOME PAGE] [CONTACT GALLERY] [ORDERING] [HYPERLINKS]