ETHIOPIAN HEADREST 73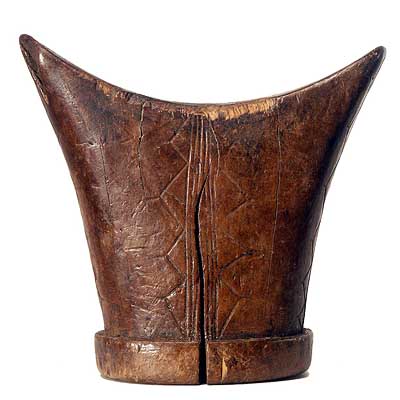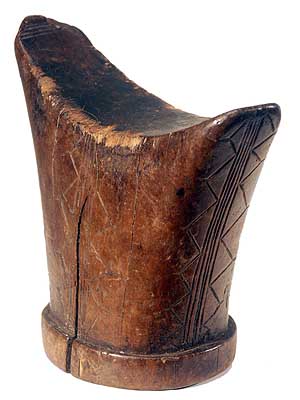 Photographs © Hamill Gallery
ETHIOPIAN
HEADREST 73
7" high
$150
SOLD*

*Ethiopian Headrest 73 was selected by the Fitchburg Museum and was donated to their permanent collection.
This headrest has been vetted as authentic with signs of use and age.
In many African cultures, small wooden "pillows" are used to support the head during sleep and in some instances to preserve a hairstyle. In Ethiopia, the headrests come in several forms and relate to other intricate, but abstract works. This group is massive and solid, with an almost circular base tapering to a narrower curving top.
RETURN TO ETHIOPIAN HEADRESTS 4 (SOLID)
GO TO GEOMETRIES EXHIBITION PAGE
BACK TO ETHIOPIAN PAGE
GO TO ETHIOPIAN HEADRESTS 3 (FLAT)
GO TO AFRICAN
HEADRESTS PAGE
GO TO ETHIOPIAN CROSSES PAGE
GO TO ETHIOPIAN WOODEN ICONS PAGE
GO TO ETHIOPIAN METAL ICONS PAGE
GO TO ETHIOPIAN SCROLLS PAGE
GO TO ETHIOPIAN BASKETS PAGE
GO TO ETHIOPIAN VESSELS PAGE
GO TO ETHIOPIAN SHIELDS PAGE