TUAREG POST 13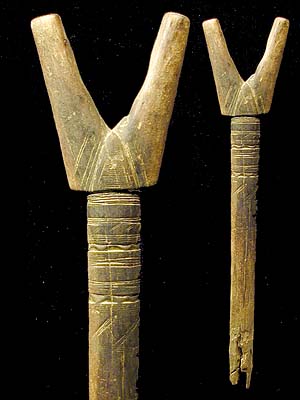 © Tim Hamill
TUAREG, POST 13, 22.5", SOLD, Niger,
The Tuareg are fiercely independent nomadic people. On the move with their herds and camels over vast areas of the southern Sahara, they produce no masks or figures but instead create an impressive world of traditional, abstract, beautiful, functional objects of leather, wood and metal, all aged by time, wear and use.
Wood was carved into posts of many inventive forms, all intricately covered with geometric designs. Once supports and holders, they are now an enchanted, weathered forest of totemic sculptures. befitting these "Nobles of the Desert".
RETURN TO TUAREG LEATHERWORK PAGE
RETURN TO SKIN EXHIBITION PAGE
GO TO TUAREG LEATHER BAGS 1 PAGE
GO TO TUAREG LEATHER BAGS 2 PAGE
GO TO TUAREG LEATHER BAGS 3 PAGE
[RETURN TO HOME PAGE] [CONTACT GALLERY] [ORDERING] [HYPERLINKS]