YORUBA POST 2, NIGERIA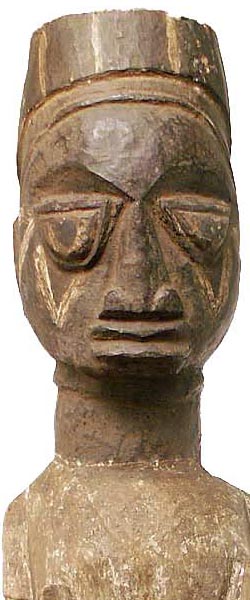 Photographs © Tim Hamill
YORUBA
Veranda Post 2
58 " high x 12.5" wide x 13.5" deep
$6,000
This Yoruba veranda post has been vetted as authentic, with evidence of some age and use.
This powerful post depicts a mounted warrior. It appears to be a support post but was not meant to bear weight.
"While innovative in its formal interpretation, the subject of this work is a classic emblem of regional leadership. In Yoruba art such equestrian figures identify their patrons with martial conquest achieved through physical might. " the Metropolitan Museum of Art, NY
The base is hollowed out and, abetted by erosion, has created a hole on the top. Fortunately this does not affect the overall strength of the piece.
RETURN TO YORUBA POSTS PAGE
GO TO YORUBA HORSEMEN PAGE
GO TO PAINT! EXHIBITION PAGE
GO TO FAMILY MATTERS EXHIBITION PAGE
GO TO COUPLES PAGE
GO TO AFRICAN FIGURES PAGE
GO TO MASKS AND HEADS PAGE
GO TO AFRICAN METALWORK PAGE
GO TO NEW ADDITIONS PAGE