AKAN "COGWHEEL" GOLDWEIGHT 1, Ghana
This goldweight has been vetted as being authentic with signs of use and age.
---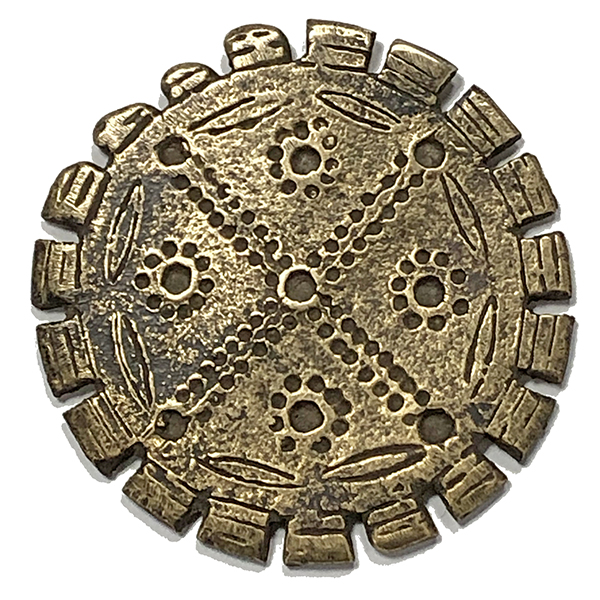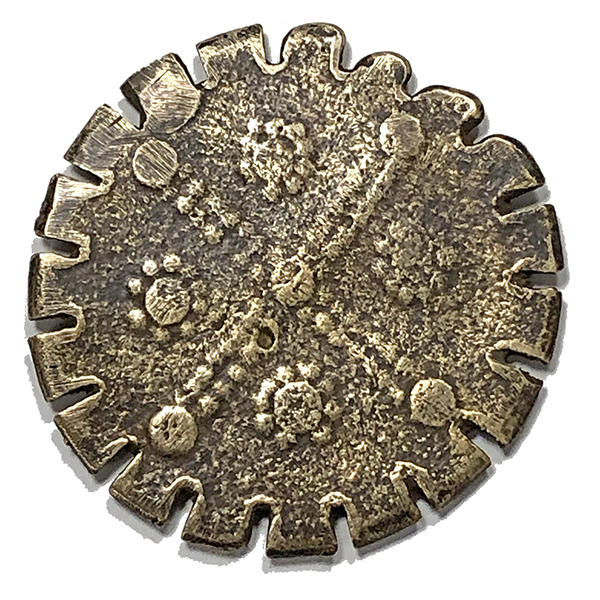 Photographs © Hamill Gallery
AKAN
"Cogwheel" Goldweight 1
2.4" high x 2.4" wide x .125
Ghana
$200


Category:  Currency  Subcategory: Weight Used in Gold Trade
Material: Copper Alloy
Indigenous Name: Unidentified but named as 'cogwheel' types in the literature.  (Garrard 1980:278)
Culture of Origin:  Akan
Country:   Ghana
Date of Object: 13th - 17th  Century . ( other "cogwheel" goldweight, not this one)
Description:
Finely worked copper alloy weight in a rounded shape with a series of regular squared cuts around the edges that give them the appearance of a gear or 'cog'.  This weight has a finely engraved surface with patterns that are noted to be of Islamic origin.  It has been noted that the oldest have small copper 'plugs' worked into the surface of the weight that is thicker at the center than at the edges.  This weight has five copper inserts worked within the various patterns of small dots and crescents.  Garrard argues that this type of weight though sharing Islamic design motifs is not found within the general corpus of Islamic weights. (Garrard 1980:279)
Gold weights have been called "masterpieces in miniature" reflecting artistry and craft in service to commerce.  The weights are not gold but brass or bronze and were used in the trade of gold. Until the end of the nineteenth gold (sika) was the currency of the Asante, Fante, Baule and other Akan peoples of Ghana and the Ivory Coast.  Used in trade with European merchants along the Atlantic coast or Islamic traders from the north, gold dust was measured on small scales called 'nsania' using small bronze or brass sculpted weights known as 'abrammo'.  Most people engaging in trade owned a set of weights ranging in appearance from small geometrically patterned weights to complex figurative and representational weights.  The great numbers of goldweights identified in and out of the Akan world attest to their widespread use over time and distance.  As early as the fourteenth century, bronze and brass weights were in use until replaced by British currency late in the nineteenth century.  The earliest weights identified are abstractedly geometric with designs either cast into the weight or later worked onto the upper surface.  It is felt that simpler forms were worked onto the weights becoming more complex later in time. Representational imagery derived from later contact with Europeans includes ships, rifles and cannon is also found in weights.  It is argued that early weights reflect initial Islamic contact through trade and that geometric forms date to a period approximately between 1400 to 1720 with figurative weights emerging later from 1700 to their end of effective use in 1900.
With thanks to Dan Mato

GO TO AKAN "AFENA" SWORDS AND OBJECTS PAGE
GO TO ASANTE ART
GO TO AFRICAN KNIVES, SWORDS, AXES AND SPEARS PAGE
GO TO AFRICAN METALWORKS EXHIBITION PAGE
MJM07182018