BAMANA ANIMAL PUPPET 41, Mali
This puppet has been vetted as authentic.
---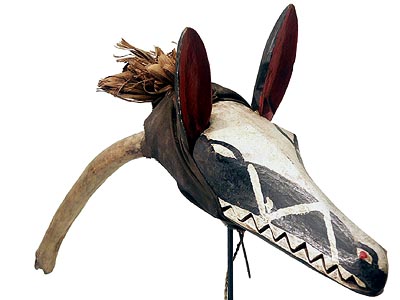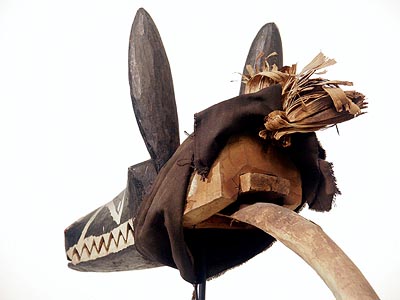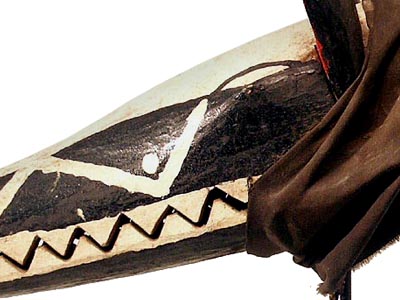 Photographs © Hamill Gallery
BAMANA
ANIMAL PUPPET 41
35.5" high
Mali
$800



Note: This puppet's ears, jaw and neck (handle) are separate pieces. The jaw moves.
Sogo bo, the puppet masquerade drama of the Bamana, is an exploration of the moral universe. The largest group of masquerade characters and the oldest performed in the theater are bush animals. In Bamana communities, the bush is defined as the domain of men and the interpretation of the theater's bush animal characters are informed by beliefs and values associated with hunting and with hunters as men of action and society's heros. Over the last decades, at the same time that the actual area of uncultivated land has constricted and the number of hunters have diminished, the definition of the bush and the nature of the hunter/hero have been extended to other arenas of endeavor. In the Sogo bo theater, bush animal masquerades remain important precisely because they are richly drawn and complex metaphors through which to explore the nature of knowledge and power [and] the relationship of the individual to the group.
from The Sogow by Mary Jo Arnoldi in Bamana: The Art of Existence in Mali. New York: Museum of African Art.

GO TO BAMANA ANIMAL PUPPETS PAGE
GO TO BAMANA PUPPETS PAGE
GO TO BAMANA KONO MASKS PAGE
GO TO BAMANA MASKS PAGE
GO TO BAMANA CHI WARA HEADDRESSES PAGE
GO TO AFRICAN MASKS PAGE

GO TO BAMANA JO MATERNITY FIGURES PAGE
GO TO BAMANA BOLI FIGURES ARCHIVES PAGE (ALL SOLD)
MJM02212017