BAMANA CHI WARA PAIRS NO. 1, MALI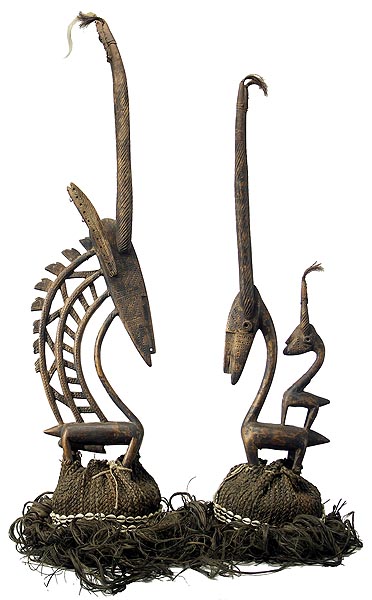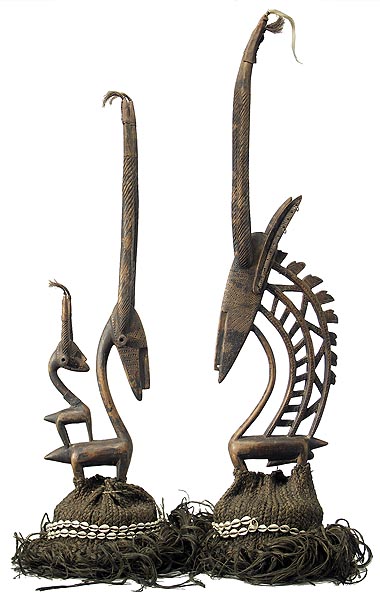 Photographs © Tim Hamill
CHI WARA
Pair 10
37.5" - 43" high x 9" - 10" wide x 3" - 3.25" deep
$1600 / pair
SOLD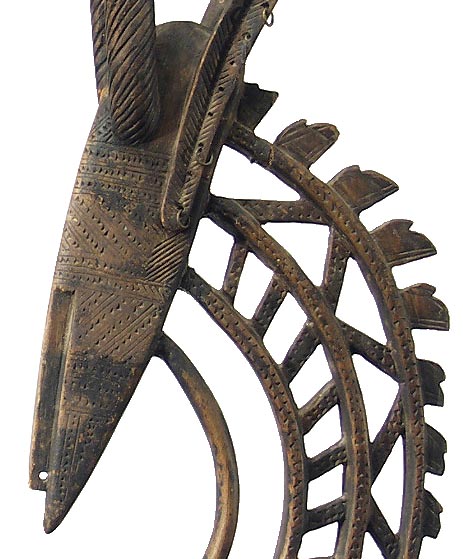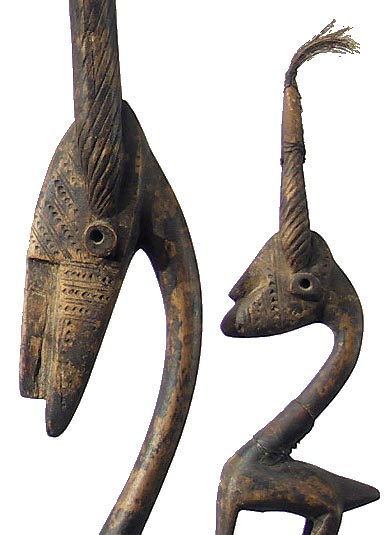 Bamana Chi Wara from Mali, represent and honor the mythological half man / half antelope hero who taught man how to cultivate the soil. They were danced in pairs and celebrate the union of male (sun), female (earth) and fibre costume (rain), signifying the cooperation needed for a successful harvest and community survival. They are worn as headdresses and danced as pairs. Spelled alternately Ci Wara, Tyi Wara, etc. they illustrate the diversity of ways to represent an unwritten pronunciation. There are three types of Chi Wara headdresses; the familiar vertical style of the eastern Bamana, the more realistic horizontal style of the northern Bamana and the varied and more abstract forms of the Southern Bamana. These are examples of the eastern vertical style and are offered only as a pair; single Chi Wara can be found on the the other Chi Wara pages.
Despite its appearance, we believe this Chi Wara pair was probably made to be sold.
This fine pair is still mounted on the basketry to wear on the head and retains its raffia to hide the head of the dancer. The surface coloring has worn down to be uneven all over. The male figure has been broken ( and repaired ) along the joint of the back of the head and the mane, a little further out on the top piece of the four.
The child's neck has been broken and, despite the leather banding, still has a little flex.
RETURN TO BAMANA CHI WARA PAIRS PAGE
GO TO BAMANA CHI WARA PAGE
GO TO BAMANA ART PAGE
GO TO MASKS AND HEADS PAGE
GO TO AFRICAN FIGURES PAGE