BAMANA IRON CHIWARA 9, MALI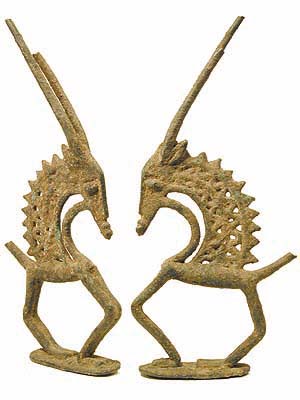 Photographs © Tim Hamill
BAMANA, Iron ChiWara 9, 13", $150, SOLD
These forged iron Chiwaras (antelope figures) exhibit the technical skill and artistry that Bamana blacksmiths brought to their work. They would do the smelting to get the iron from iron ore, then heat and hammer out both the tools and weapons used and the important ritual objects.
They are better known for their wood Chiwara headdresses. These headdresses represented the mythological half man / half antelope hero who taught man how to cultivate the soil. They were danced in pairs and celebrate the union of male (sun), female (earth) and fibre costume (rain), signifying the cooperation needed for a successful harvest and community survival.
This piece is cast, not forged. Also note the broken horn.
RETURN TO BAMANA IRONWORK PAGE
RETURN TO METALWORKS EXHIBITION PAGE
RETURN TO METALWORKS EXHIBITION PAGE 2
[RETURN TO HOME PAGE] [CONTACT GALLERY] [ORDERING] [HYPERLINKS]