BAMILEKE MASKS ARCHIVES, Cameroon
The head and mask below have been sold and are left here for educational and research purposes.
For UNSOLD Bamileke Masks GO TO BAMILEKE MASK PAGE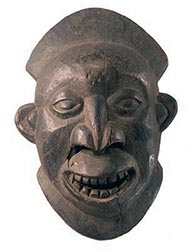 Bamileke
Mask 4
13.5" high
SOLD
Photographs © Hamill
The Bamileke reserve their highest allegiance for their linear ancestors whose spirits are embodied in the skulls of the deceased. Recognizing the importance of the skull, representations of the head are found in nearly all decorated ceremonial objects including these expressive masks.
Although exquisitly carved, our Bamileke masks show no evidence of age or use and were probably made to be sold.

GO TO BAMILEKE MASK PAGE

GO TO BAMILEKE ART PAGE
GO TO GRASSLANDS EXHIBITION PAGE
GO TO MASKS AND HEADS PAGE

GO TO BAMILEKE BEADWORK PAGE
GO TO BAMILEKE BUFFALO MASKS PAGE