BAULE METAL MASK 1, Ivory Coast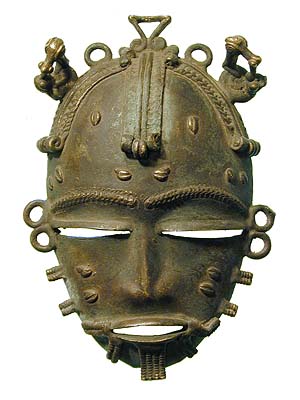 Photographs © Tim Hamill
BAULE, METAL MASK 1, 7.5", $125, SOLD, Ivory Coast
The Baule are one of the Akan peoples. They moved west to the Ivory Coast more than 200 years ago and adopted sculptural and masking traditions from their neighbors, the Guro, Senufo and Yaure peoples.
Baule masks can be among the most elegant and designed pieces in Africa.
Most Baule masks are wood, these are made of brass by the complex traditional lost-wax process. The brass masks can be wall hung on a single pin.
RETURN TO BAULE METALWORK PAGE
RETURN TO METALWORKS EXHIBITION PAGE
RETURN TO METALWORKS EXHIBITION PAGE 2