DAN MINIATURE (PASSPORT) MASK 7, Liberia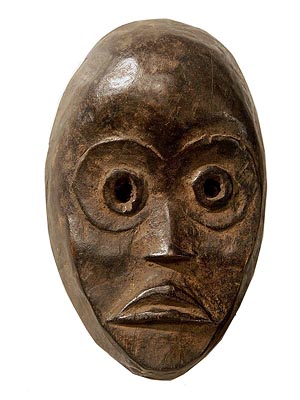 Photographs © Tim Hamill
Dan
Mini Mask 7
6.75"
$40
MINIATURE MASKS, Liberia and Ivory Coast
Small masks were used by the Dan and other groups to validate ownership of larger ceremonial masks, as charms to protect their owners, and to identify rank in men's associations and locality, thereby functioning as "passport masks".
We believe all of these miniature masks in this catalog are new and made for sale, never used in the traditional way. These masks have the eye and other openings black as they appear when hung. Several have two small holes on the top to be worn as amulets.
Please note the sizes carefully. Photographs of small objects can make them appear much larger than they are.
RETURN TO DAN MINIATURE MASKS PAGE
GO TO DAN MASKS PAGE 2
GO TO DAN MASKS PAGE 1
GO TO DAN ART PAGE
GO TO DAN METAL MASKS PAGE
GO TO DAN MASKS AND HEADDRESSES PAGE
GO TO DAN FIGURES PAGE
GO TO DAN SPOONS PAGE
RETURN TO MASKS AND HEADS PAGE
[RETURN TO HOME PAGE]
[CONTACT GALLERY]
[ORDERING]
[HYPERLINKS]