DOGON STYLE HAIRPIN 8, MALI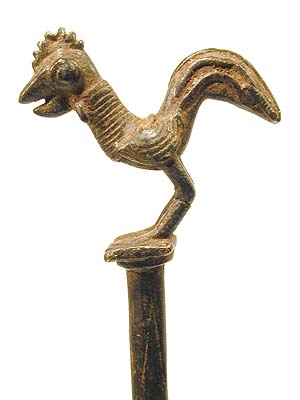 Photographs © Tim Hamill
DOGON STYLE
HAIRPIN 8
1.5" high
$125
Despite its appearance, this hairpin wasprobably made to be sold.
These hairpins, cast by the lost wax process, depict either animals or riders. Although horses are rare, horsemen as icon have existed for 1000 years in Mali. Some would depict a hogon, the supreme officeholder, a semi-divine leader of great wisdom, or even a mythological emissary from a distant land.
Measurement = height of figure. Total pin height ranges from 8" - 9.25". Price includes stand 2"x2"x2".
GO TO ART OF DOGON EXHIBITION PAGE
GO TO METALWORKS EXHIBITION PAGE