DOGON TOGUNA POST 5, Mali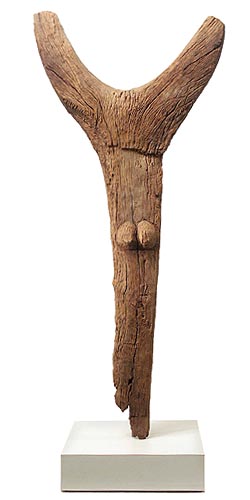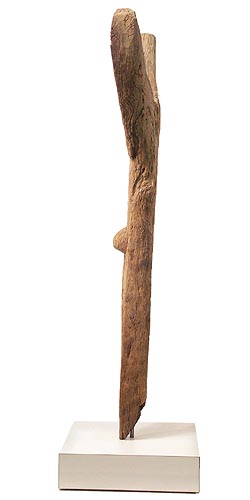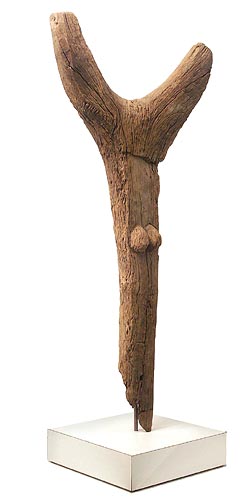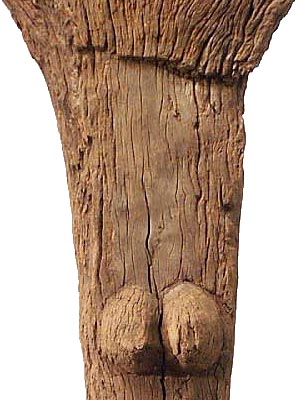 Photographs © Tim Hamill
DOGON
TOGUNA POST 5
51" high
$3000
Donated to the Fitchburg Art Museum
This post has been vetted as authentic, with signs of use and age.
The toguna is the most important public edifice in a Dogon village, in which men's assemblies and council meetings are held. (togu = shelter, na = big, great or mother, therefore toguna = great shelter) Its position is chosen by the chief and the village is built around it. The toguna posts, therefore, are cultural artifacts of major importance and power, created by man, imbued with spirituality and aged by the earth.
In general, togunas are low constructions on three rows of supports (wooden uprights or stones) covered by beams that support a thick roof of millet stalks. The wooden posts, among the most impressive and monumental works of traditional Africa, are carved of kile wood (Prosopis africana), a very hard wood and durable. The tree, when reaching about 6 feet, splits in two and, when cut off at the base, creates a natural fork that supports the beams of the roof, which can average 22 tons.
With several feet of the post buried in the earth, the inside height of the toguna is only 4 - 5 feet, kept short to offer protection from the sun and heat and to encourage a calming effect on the men by keeping them seated and therefore less prone to posturing or fighting. Some of our posts have discoloration in the buried area, others have it rotted away to varying degrees, witness to their fused contact with the earth.
The toguna is intended to reproduce the shelter where the eight primordial ancestors met together, and in fact each of them is identified with one of the supporting pillars. The posts were prized by collectors and sometimes stolen, and some were defaced to keep that from happening. Muslim conversion of villages and closure of some of the togunas has facillitated the legal purchase and exportation of the posts.
RETURN TO DOGON TOGUNA POST PAGE
GO TO DOGON FIGURES PAGE
GO TO DOGON MASKS PAGE
GO TO DOGON ART PAGE
RETURN TO ART OF DOGON EXHIBITION PAGE
RETURN TO AFRICAN POSTS PAGE
RETURN TO ARTIFACTS PAGE
GO TO AFRICAN FIGURES PAGE
GO TO MASKS AND HEADS PAGE
GO TO NEW ADDITIONS PAGE