ETHIOPIAN STYLE WOODEN ICON STANDS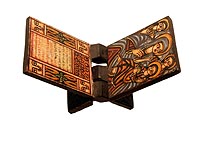 ETHIOPIAN Style
Icon Stand 1 (side view)

The Icon stands below have been sold and are left here for educational and research purposes.
Photographs © Hamill Gallery
ETHIOPIAN Style ICON STANDS
Ethiopia has been a Christian nation since the 4th century. These wooden icons stands, which are meant to be displayed horizontally on a tabletop or shelf, are hand-carved and hand-painted with scenes from the gospels.
They all look like number 1 from the side.
These stands show little sign of age or use and were probably made to be sold.