ETHIOPIAN RINGS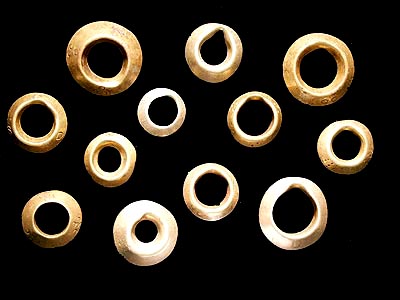 These massive rings are not easily worn on the finger but may be suspended from a cord and worn as a pendant. They range in size from 1.5 inches in diameter to slightly less than an inch. The actual color is more uniform than the photograph suggests. They are all a warm golden bronze tone.
ETHIOPIAN, Rings, various sizes, $25.
Photographs © Bobbi Hamill
ETHIOPIAN, Rings with stands
These heavy bronze rings may be worn on the finger or suspended from a cord as a pendant. The stand, custom made for each ring, is included.
BACK TO ETHIOPIAN PAGE
GO TO ETHIOPIAN CROSSES PAGE
GO TO ETHIOPIAN WOODEN ICONS PAGE
GO TO ETHIOPIAN METAL ICONS PAGE
GO TO ETHIOPIAN SCROLLS PAGE
GO TO ETHIOPIAN BASKETS PAGE
GO TO ETHIOPIAN VESSELS PAGE
GO TO ETHIOPIAN SHIELDS PAGE