This page is a record of an exhibit that took place
in 1993. The individual links below will take you to
the CURRENT VERSION of the pages
that formed part of that exhibit.

ABSTRACT WORKS

OCT. 2 - NOV. 30, 1993
The Abstract Works exhibition showed a definite shift from the traditional masks and figures typical of African art to non-objective artifacts, focusing on shape, pattern, volume, detail and the patinas of use and age. In these pieces timeless and modern concepts coexist. Comparisons and contrasts with the other gallery exhibits show the range of styles from the ideal to the real, the exaggerated and distorted to the simplified and minimized, the elegant to the primitive, the spiritual and humanistic to the abstract.

Works on view include Dogon ladders and doorlocks; Senufo stools, bogolanfini (mudcloths) and pestles; Nupe stools and pots; Kuba textiles of both the Shoowa "cut-pile" type and Ngeende appliqued raffia cloths; Pygmy painted "bark cloth"; and Yoruba Ashoke cloth, Egungun costumes and Hausa robes. Iron pieces are either knives, spears, anklets, ceremonial weapons or large currencies. Beaded pieces are primarily from the Ndebele (see image) and Kuba peoples. Boxes, bowls, helmets, jewelry and other traditional artifacts complete a show with great spiritual and artistic power. Additional pieces, especially textiles, can be viewed by appointment.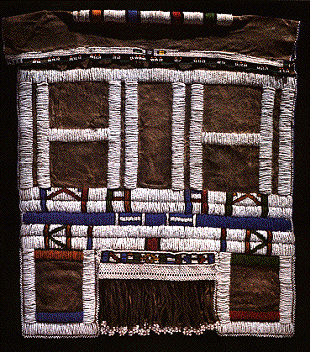 NDEBELE, MAPOTO BEADED APRON, South Africa © John Urban
This beaded garment, made by and worn by women, was for ceremonial occasions. It defined one's status, progressing from girlhood to womanhood. The Mapoto was reserved for married women.