This page is a record of an exhibit that took place
in 1994. The individual links below will take you to
the CURRENT VERSION of the pages
that formed part of that exhibit.

Baule Sculpture
Aug. 6 - Sept. 30, 1994
Baule Sculpture is an exhibition incorporating extreme contrasts in artistic style, from the elegant and refined to the primitive and almost abstract. Female face masks, kpan, and most Baule figures are characterized by their grace, beauty & virtuosity of carving. The quiet, dignified figures can embody a nature spirit, asie usu, or serve as a spiritual spouse, blolo bian or blolo bla; either must be placated with care. The show's traditional figures range from small, delicate pieces to several large, powerful seated works.

In stark contrast are the kplekple, round flat masks with horns, one of Africa's boldest abstractions. We have an outstanding selection of large ones, worn during Goli, the dance of rejoicing. Other works include figures of the ape god, gbekre, which exude protective spirituality. Baule skill in metal casting, evident in bronze bracelets, small masks and pendants, round out an impressive and beautiful show.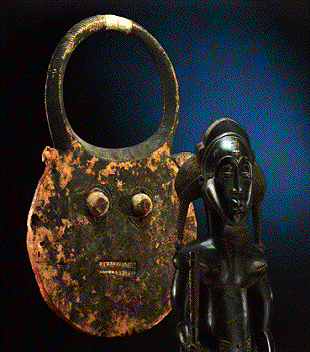 BAULE, GOLI MASK and FIGURE, Ivory Coast
Photograph© John Urban
GO TO BAULE SCULPTURE PAGE
GO TO BAULE EXHIBITION PAGE
GO TO BAULE MASKS PAGE
GO TO BAULE GOLI MASKS PAGE