This page is a record of an exhibit that took place
in 1992. The individual links below will take you to
the CURRENT VERSION of the pages
that formed part of that exhibit.

AFRICAN BEADWORK

AUG. 5 - SEPT. 30, 1992
Our long-awaited African Beadwork exhibition opened in our main gallery, offering an unusual range of color, intricate design and symbolism.

African Beadwork is a beautiful collection of traditional work from West, Central, East and South Africa. Yoruba beaded pieces from Nigeria include beaded King's crowns, vests, dance panels, bags, sashes, necklaces, House of the head shrines and Ibeji (twin) costumes, all filled with symbolic imagery. From the Cameroon we have major Bamileke and Bamun works, royal stools, elephant masks, etc. Traditional Ndebele jocolo and mapoto beaded aprons, from South Africa, show changes in materials and style over the years. The Kuba people, from Zaire, have intricately decorated masks and belts. Personal objects of adomment from the Yoruba, Lega, Kamba, Senufo and other peoples are colorfully embellished with various beads, cowrie shells, seeds and other objects. Beaded dolls from the Ndebele, Zulu and Namji peoples and various beaded necklaces complete the show.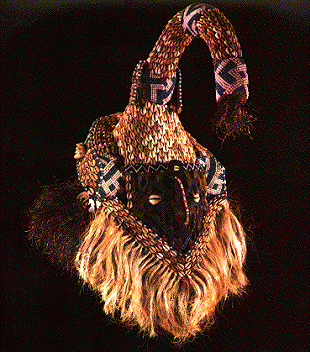 KUBA, MWAASH A MBOY MASK, Zaire © John Urban
This complex mask, with its elephant trunk and leopard skin, represents kingly power in a ritualized reenactment of Kuba mythological origins and royal power struggles. Portraying both the god Woot and the first king, the character marries his sister, Ngaady A Mwaash, and contests with his brother, Bwoom, who speaks for the commoners. As with most Kuba art, the piece is highly covered with geometric abstract designs.

KUBA, NGAADY A MWAASH MASK, Zaire

This mask, covered with geometric designs typical of Kuba art, portrays the wife of the first Kuba king in a ritualized reenactment of Kuba mythological origins and royal power struggles. A Kuba ideal of beauty, Ngaady A Mwaash was fought over by Mwaash A Mboy, her husband and king, and his brother, Bwoom.
GO TO AFRICAN BEADWORK PAGE
GO TO ARTIFACTS PAGE
GO TO MASKS AND HEADS PAGE
GO TO NEW ADDITIONS PAGE