This page is a record of an exhibit that took place
in 1993. The individual links below will take you to
the CURRENT VERSION of the pages
that formed part of that exhibit.




ART OF CAMEROON
FEB. 6 - MARCH 31, 1993
The Art of Cameroon exhibition was one of our most varied and expressive shows. The people represented include the Bamileke, Bamun, Tikar, various chiefdoms of the Western Grassfields and the Mambila and Namji from the North. Most of the collection is comprised of masks, figures and stools that represent the power and prestige of Cameroon royalty.

The masks all are helmet or crest types, worn on top of the head, and were used by noble lineage groups or societies such as the Kwifoyn. Worn during many types of ceremonies and rituals, they enhanced prestige, social control or spirituality. Powertully carved, they depict nobles or symbolically important animals; royal leopards and elephants, buffalos, birds and the Mambila's crow/cows. Several are embellished traditionally with intricate beadwork. Unusually large and rare examples add to the strength and drama of this large exhibition.

There are fewer figures, Bangwa, Bamun and a strong group of the intense ancestor figures of the Mambila. The stools, symbols of authority, are mostly Bamileke, elaborately carved and range in size up to large thrones. A selection of prestige objects and beaded Namji figures round out the show.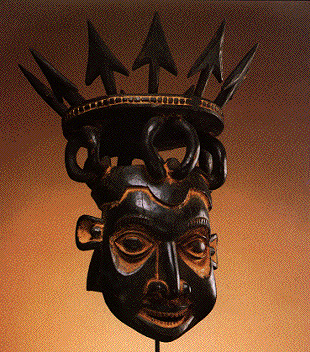 BAMUN, HEADDRESS, Cameroon
Photograph © John Urban
GO TO BAMILEKE ART PAGE
GO TO BAMUN ART PAGE