This page is a record of an exhibit that took place
in 1991. The individual links below will take you to
the CURRENT VERSION of the pages
that formed part of that exhibit.

DAN SCULPTURE
JUNE 1 - JULY 31, 1991
The Hamill Gallery of African Art announces its third special exhibition, "Dan Sculpture".The Dan people, from NE Liberia and westem Ivory Coast, produce masks, figures and artifacts of great beauty, power and spint. This exhibit presents a wide vanety of work from the tnbe's rich tradition.

Masks in the show range in style from the idealized realism and elegance of the Deangle feminine masks and the round eyed Gunyege racing masks, with their dark and shiny patinas, to the aggressive, cubistic, encrusted creations of the neighboring Guere tnbe. In size, they vary from miniature "passport" masks representing the spirit of larger masks, to great, elaborate headdresses incorporating fiber, fabric, feathers, cowrie shells, metal, bone, beads and fur.

There are masks from tho Poro society, the men's secret orgnization with ritual, social and political power. Several Wunkirmian. the large figurative spoons or feast ladles awarded to outstanding women, and standing female portait statues commissioned as status symbols, pay tribute both to individual Dan persons of achievement and to their artistic skills and heritage.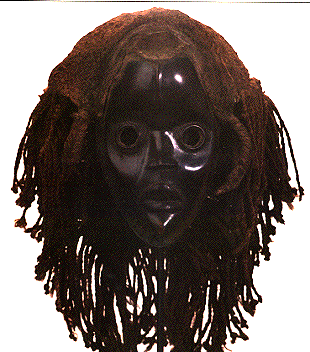 Photograph © Kalman Zabarsky
DAN, GUNYEGE HEADDRESS, Liberia
GO TO DAN SCULPTURE PAGE
GO TO MASKS OF THE DAN EXHIBITION PAGE
GO TO DAN MASKS PAGE
GO TO DAN MASKS 3 PAGE
GO TO DAN METAL MASKS PAGE
GO TO DAN MASKS AND HEADDRESSES PAGE
GO TO DAN MASKS ARCHIVES PAGE
GO TO DAN SPOON FIGURES PAGE
GO TO DAN SPOONS PAGE
GO TO DAN FIGURES PAGE
GO TO AFRICAN FIGURES PAGE
GO TO AFRICAN MASKS PAGE
GO TO NEW ADDITIONS PAGE