FAMILY MATTERS

This page is a record of an exhibit that took place
in 2004. The individual links below will take you to
the CURRENT VERSION of the pages
that formed part of that exhibit.



October 17, 2004 - January 16, 2005

Please scroll down for links to images, sizes, prices and more information on each object featured in the current exhibit.
For those of you who cannot visit the gallery, we present some views of the current exhibition. We'd like to thank our friend Laurent Deladune who was kind enough to come all the way from France to help us with the installation.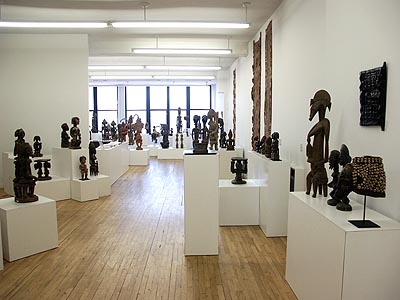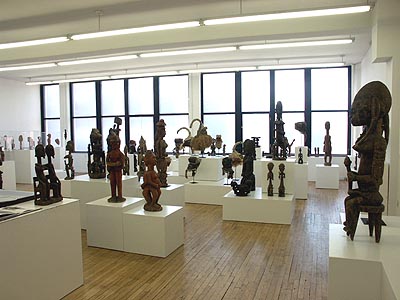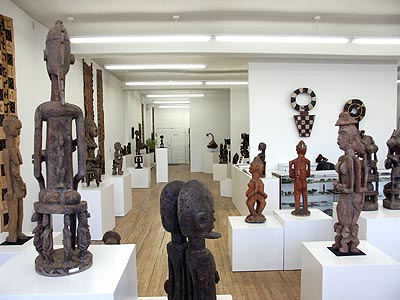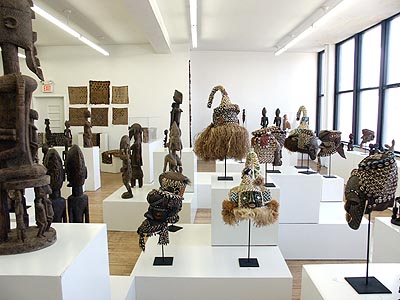 Usually representing spirits, ancestors or the primordial couple, these figures were placed in shrines and treated with great respect. Through a wide range of style, scale, belief and function the couples depicted share a timeless, serene equality necessary to the continuity of their societies. Traditionally, most of the couples are two freestanding figures, conceived as a unit, and posed frontally, symmetrically, in formal postures and of equal size.
Sculpted as stools and headrests, the male and female figures serve as symbolic supports, or as handles when worked into the design of bowls. Couples also appear as decorative elements on African doors.
MATERNITY FIGURES
Exhibiting a wide diversity in size, symbolism, intimacy and style., African maternity figures depict the ideals of beauty, fertility, character and action and many signify much more, whether the primordial mother or a legendary founding ancestor. Commonly used as shrine figures, they were often objects of petitions or prayers for fertility and successful births. The prevelance of the maternity theme testifies to the importance of women and children to the continuity of each people.
TWINS, SIBLINGS, ETC.
KUBA ROYAL FAMILY HEADDRESSES
GO TO MATERNITY FIGURES PAGE
GO TO COUPLES PAGE
GO TO AFRICAN FIGURES PAGE
GO TO MASKS AND HEADS PAGE
GO TO AFRICAN METALWORK PAGE
GO TO NEW ADDITIONS PAGE
GO TO AFRICAN STOOLS PAGE