This page is a record of an exhibit that took place
in 1992. The individual links below will take you to
the CURRENT VERSION of the pages
that formed part of that exhibit.

The IGBO, IBIBIO and OGONI
JUNE 6 - JULY 3 & JULY 13 - 31, 1992
Our major, new exhibition, The Igbo, Ibibio and Ogoni, shows the quality and diversity of work from several peoples of southem Nigeria. Traditional Igbo pieces, made to influence fate, honor gods or to entertain, present a wide range of figures and masks. We have an outstanding group of the powerful, blocky, post-like display figures from the Southern Region as well as the rounder, more realistic versions from the North Central area.. Several Ikenga, the smaller, but formidable home shrine figures, symbolize status and strength. Igbo masks include delicate maiden spirit masks, Queen of Women helmet masks, the unusual elephant masks, plus some of the more abstract Yam festival and Afikbo masks. The neighboring people, the Ibibio, show masks that, like the Igbo, illustrate the theme of duality, with positive masks appearing regular and harmonius and negative ones being distorted and aggressive.. Ogoni masks, usually smaller, are notable for their hinged jaws as are the fine collection of puppets. Other unique works and several Urhobo shrine figures complete the exhibit.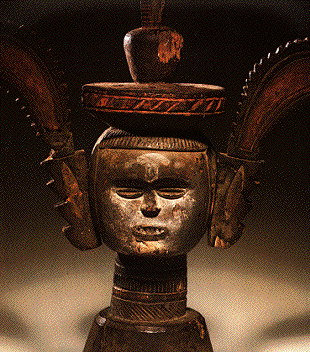 IBIBIO, SHRINE HEAD, Nigeria
Photograph © John Urban
GO TO IBIBIO PUPPETS PAGE
GO TO IBIBIO SHRINE HEAD PAGE
GO TO IGBO ART PAGE
GO TO IGBO IKENGA FIGURES PAGE
GO TO IGBO IKENGA SHRINE FIGURES PAGE
GO TO IGBO FIGURES PAGE
GO TO IGBO COUPLES PAGE
GO TO IGBO DRUMS PAGE
GO TO IGBO DOORS PAGE
GO TO IGBO TRAYS PAGE
GO TO ARTIFACTS PAGE
GO TO AFRICAN FIGURES PAGE
GO TO NEW ADDITIONS PAGE