This page is a record of an exhibit that took place
in 1992. The individual links below will take you to
the CURRENT VERSION of the pages
that formed part of that exhibit.

MENDE HELMET MASKS
OCT. 3 - NOV. 30, 1992
The Mende Helmet Mask exhibition opened in our main gallery, with a select group of these powerful and beautiful masks from Sierra Leone in West Africa. The Sande (or Bundu) women's association controls the political and ritual use of the masks, a practice almost unique in Africa.. The helmets embody Sowo, the Sande's guardian spirit and are highly stylized images of ideal feminine beauty, with elaborate coiffures, compressed faces and healthy neck-rings. Many have full raffia attached and three include the full costume. Related masks from the neighboring Gola, Bullom and Bassa peoples are included, as is one male mask.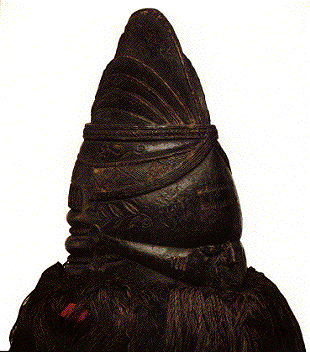 MENDE, SANDE HELMET MASK, Sierra Leone
Photograph © John Urban
Sande, a women's association, is almost unique in Africa in that it controls the use of these masks, which embody Sowo, their guardian spirit. The masks usually include an elaborate hairstyle and attempt to represent serene feminine beauty, with high foreheads, small, compressed facial features, and voluminous neck-rings. A dark raffia collar led into a full, dark costume.
GO TO MENDE ART PAGE
GO TO MENDE MASKS 1 PAGE
GO TO MENDE MASKS 2 PAGE
GO TO MENDE FIGURES PAGE
GO TO MENDE OBJECTS PAGE
RETURN TO MASKS AND HEADS PAGE
RETURN TO NEW ADDITIONS