This page is a record of an exhibit that took place
in 1997. The individual links below will take you to
the CURRENT VERSION of the pages
that formed part of that exhibit.

Mumuye & Wurkun Sculpture
August 2 - September 30, 1997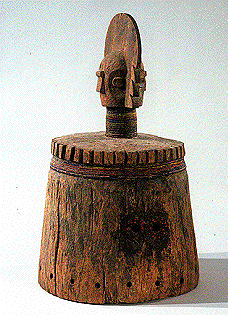 Wurkun, Janus Headdress, 25", Nigeria
Photograph © Tim Hamill



"Mumuye and Wurkun Sculpture", works recognized for their dynamic interplay of complex angular masses, represent two neighboring peoples of remote NE Nigeria. The Mumuye were unknown to outsiders until 1959, their sculpture was discovered first in 1968. With no royalty, the Mumuye were organized by age groups.
Perhaps the most "modern" looking of African figures, many Mumuye works have a Henry Moore-like sculptural quality. The figures range greatly in size, but share elongated bodies, stylized coiffures or crests, ears, scarification, short notched legs and planes defining negative spaces. The statues depicted spirits and were used for protection, divination and healing as well as bringing status and prestige to the owner.
There is also a variety of yoke or shoulder-masks, with two panels depicting the front and back of the body. Va masks (animal masks with open jaws and horns), small staff-like figures and several unusual pieces round out the extensive Mumuye selection. Wurkun pieces, with their unique crests and features complete a show with equally strong and rarely seen works.

GO TO MUMUYE ART PAGE
GO TO MUMUYE FIGURES 2 PAGE
GO TO MUMUYE FIGURES 3 PAGE
GO TO MUMUYE FIGURES 4 PAGE
GO TO MUMUYE OBJECTS PAGE
GO TO MUMUYE MASKS 1 PAGE
GO TO MUMUYE MASKS 2 PAGE