This page is a record of an exhibit that took place
in 1996. The individual links below will take you to
the CURRENT VERSION of the pages
that formed part of that exhibit.

Sculpture of the Pende
This is an exhibit of traditional figures and masks from the Western, Kwilu, and Eastern, Kasai, Pende peoples of Zaire. Quite different in style, the works of the two groups create an exhibit of contrasts.

Western pieces are relatively naturalistic, with delicate features on both Mbuya masks, of which we have a large and varied selection, including the chief's masks, with their multi-pronged headdresses, the distorted black and white clown masks, Muyombo masks, with long wooden "beards" and some small bone pendant masks, Ikhko. Figures depicted important ancestors and adorned the roof of a chief's house.

Eastern works are less uniform and show a variety of sculptural forms, all more abstracted than the Western style. Among the major forms are the tall helmet masks representing the power of the chief, used during inauguration ceremonies. Giphogo helmet masks and flatter, Phota masks, including wide initiation masks, are also highly stylized. Several intriguing mesh masks with attached wooden features round out the exhibit.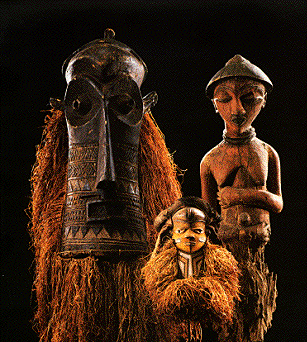 PENDE, MASKS and FIGURE POST, Zaire
Photograph © John Urban
GO TO PENDE ART PAGE
GO TO EASTERN PENDE MASKS PAGE
GO TO WESTERN PENDE MASKS PAGE
GO TO MASKS AND HEADS PAGE