This page is a record of an exhibit that took place
in 1996. The individual links below will take you to
the CURRENT VERSION of the pages
that formed part of that exhibit.




AFRICAN POSTS

APRIL 3 - MAY 31, 1996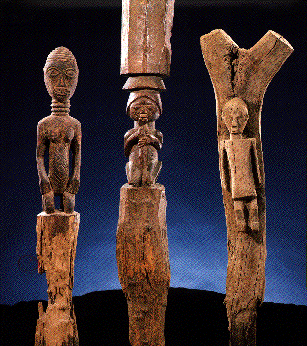 BOBO-FING POST-FIGURE, YORUBA HOUSEPOST, DOGON TOGUNA POST

Photographs © Tim Hamill
This is an exhibit that shows traditional architectural and commemorative posts. Many African figurative pieces are post-like in form but we are showing only those intended to be placed not on, but in, the ground. They share a spiritual monumentality reserved for pieces fused by contact with the earth.

The architectural support posts are dominated by a large collection of Dogon toguna posts from Mali. The Y-shaped posts support beams of the village men's toguna house and are embellished with figures, breasts or symbols. The impressive grouping, carved to last from the incredibly dense local hardwood, ranges in style and in size to over 7 feet tall and 195 Ibs. The bottom several feet are usually buried in the ground, some posts have discoloration of this area, others have it rotted away to varying degrees. Muslim conversion of villages and closure of some of the Togunas has vacillitated the legal purchase and exportation of the posts. We also have a Yoruba chiefs housepost and an abstract Nupe post, both from Nigeria.

The second major grouping is of Fon Boccio figure/posts from the Rep. of Benin. Mostly modest in scale, often inelegantly carved, but wonderfully aged by exposure,they honored past chiefs and kings. Two are very tall head/posts. Similar head or figure/posts of the Yaka and Songye of Zaire, the Bobo-Fing of Burkina Faso, and the Igbo and the Benue of Nigeria add to the show, which is completed by some abstract Taureg screenposts from Niger. Not intended as art, but to support and honor, all of these posts have survived to create a show of unusual power, carved by man and aged by the earth.
Next Exhibition:
AFRICAN TEXTILES
June 5 - 30 and July 8 - 31, 1996