This page is a record of an exhibit that took place
in 1997. The individual links below will take you to
the CURRENT VERSION of the pages
that formed part of that exhibit.

AFRICAN PUPPETS
June 4 - 28, July 7 - 31, 1997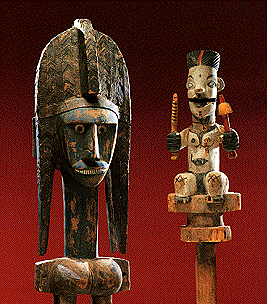 "African Puppets", carved of wood, were used in secular theatrical performances to entertain, narrate, instruct, control or bring social change. Most have limited range of movements, usually the limbs or the lower jaw. The concepts of "speaking" masks and statues have evolved into complex drama traditions among the Bamana people of Mali and the Ibibio of Nigeria.
We have a large colorfully painted selection of human and animal puppets that were used in the Cheko theater of the Bamana. Large bold heads and full human figures mix with ram, antelope, cattle, horse and bird heads to tell stories and often to criticize or ridicule important elders. Also included are some of the half-figures known as "marionettes".
The Ibibio people of southern Nigeria also have an established puppet drama group of the men's Ekon society. Secular performances, often humorous but with serious themes, were dedicated to ancestral spirits. Puppeteers were guaranteed anonymity and protection so they were free to parody village life and satirize prominent members of the community. Also represented are several Nyama "fat-house" girls, with light colors associated with good, beauty and wealth. The puppets were held from below by handles and had movable jaws.
Other tribes have less developed use of puppets and the show is enriched by a group of Nyamwezi puppet figures from Tanzania, some Ekoi / Ejagham pieces, a Yoruba Gelede headdress with puppet, an incredible Bwa crocodile and some puppet-like bird hunter's decoys from No. Nigeria. Altogether they create a fascinating and visually powerful exhibition.
---
The African Puppets Show is open June 4 - July 3, closes for a long vacation week, then reopens July 15 - 31. We will be removing the Horse & Rider show and installing the new exhibit on Tues. and Weds. June 3 & 4; feel free to stop by and be first to see everything. To celebrate the new show and welcome you, we are having an Opening Party Sat. June 7, from 12-4. The show will be open July 4-14 by appointment only. Call (617) 696-0033.
Coming next: Mumuye and Wurkun Sculpture, Art of the Tuareg, Beauty and the Beast.
GO TO AFRICAN PUPPETS
GO TO AFRICAN FIGURES PAGE
GO TO MASKS AND HEADS PAGE
GO TO NEW ADDITIONS PAGE