This page is a record of an exhibit that took place
in 1991. The individual links below will take you to
the CURRENT VERSION of the pages
that formed part of that exhibit.

ART OF THE SENUFO
AUGUST 3 - SEPT. 30, 1991
The Senufo poople, from NE Ivory Coast in West Africa, produce masks and sculpture for symbolic ceremonies to assure the continuity of their village life. This exhibit attests to the range and power of that tradition.

Masks in the show are mostly helmet masks of the "firespitter" type, which combine the aggressive features of several animals. The kunugbaha (no homs) and kponiugu (horned or doubleheaded) styles were all used in anti-witchcraft dances.

Strongly stylized figures represent ancestors, and were often used as deble (rhythm pounders) during processions and dance rituals. Some are among the largest and boldest forms in traditional African art. Textiles, stools, beds and other artifacts complete a powerful show. Hornbill figures, called Setien or Porpianong, were used by the Lo and Poro societies. A symbol of fertility and the original ancestor cult, the hornbill was the mythological founder of the Senufo people. The figures were originally worn on the head during long dances and processions. The Setien, hermaphrodictic, represent procreation, with their long hooked beaks touching their protruding stomachs that they have fertilized, therefore being the carrier of life and a symbol of continuity to future generations.

Hornbills are noble birds; they mate for life, they share equally in the raising of their young who they protect by spreading their wings. They are depicted in their erect, protective stance.
The variety of size, style, skill and surface finish reflects the range of the more than a million Senufo peoples living in the Ivory Coast, Mali, Burkina Faso and Ghana.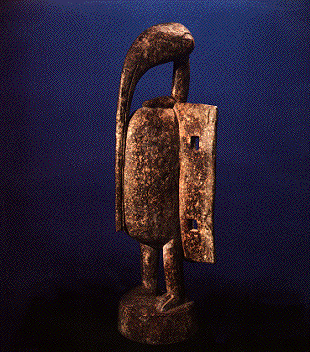 SENUFO, HORNBILL FIGURE, Ivory Coast
Photograph © John Urban
GO TO SENUFO ART PAGE
GO TO SENUFO BIRDS 1 PAGE
GO TO SENUFO BIRDS 2 PAGE
GO TO SENUFO DOORS PAGE
GO TO SENUFO DRUMS PAGE
GO TO SENUFO MATERNITY FIGURES PAGE
GO TO SENUFO STOOLS PAGE
GO TO NEW ADDITIONS PAGE
GO TO AFRICAN STOOLS PAGE