This page is a record of an exhibit that took place
in 1992-93. The individual links below will take you to
the CURRENT VERSION of the pages
that formed part of that exhibit.

SUKU & LEGA MASKS
DEC. 5 - 23, 1992 & JAN. 4 - 30, 1993
The Suku and Lega exhibition opened in our main gallery, contrasting the massive, raffia-fringed helmet masks of the Suku people with the flat, archetypal masks of the Lega, both from Zaire. Most of the Suku masks are of the hemba type, worn with full costume in male initiation ceremonies. There is a range of styles from many regions, but most are surmounted by an animal figure.

The Lega pieces are much more varied, made of wood, tortoise shell, bone and even ivory; simple or with beards of raffia fiber; mid-size down to miniature masks and amulets. Most still have some white kaolin coating, they all share a monumental simplicity and primordial strength. They were used by the complex social organization, Bwami, and indicated the rank or grade attained in ethical teaching. Small Lega figures, in wood or ivory, stools and beaded hats round out the show. Do not miss this powerful, beautiful and spiritual exhibition.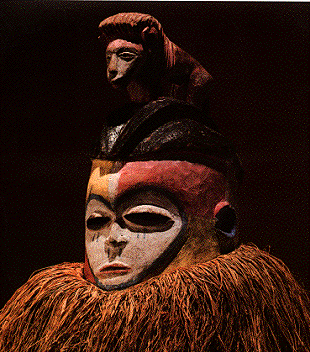 SUKU, HEADDRESS, Zaire
Photograph © John Urban
GO TO SUKU MASKS PAGE
GO TO LEGA SCULPTURE PAGE
GO TO LEGA MASKS 1 PAGE
GO TO LEGA MASKS 2 PAGE
GO TO LEGA CAPS PAGE 1 (1-12)
GO TO ARTIFACTS PAGE
GO TO MASKS AND HEADS PAGE