IJO HEADDRESSES ARCHIVES, Nigeria
The Ijo headdresses below have been sold and are left here for reference and educational purposes.
For unsold Ijo headdresses GO TO IJO HEADDRESSES PAGE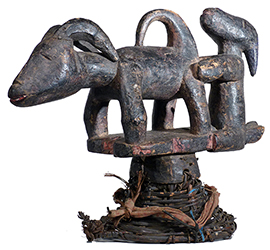 IJO Headdress 19
14.5" high x 19.5" long
SOLD*
Photographs © Hamill Gallery
IJO, HEADDRESSES, Nigeria
These headdresess have been vetted as authentic, most with signs of use and age.
The horizontal headdresses worn by the Ijo (or Ijaw) people are some of the rarest in Africa. They are used duriung water-spirit festivals prior to the rainy season and often depict aspects of marine life: fish, aquatic fantasy creatures and occasionally boats.