JUKUN FIGURE 2, Nigeria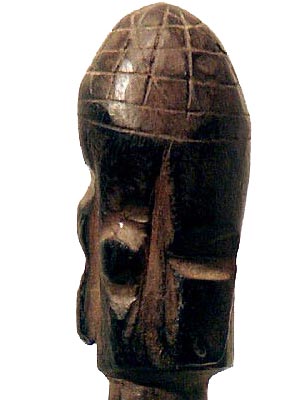 Photographs © Tim Hamill
JUKUN, FIGURE 2 , 15.5", $250, SOLD, Nigeria
The Jukun, like the Mumuye, have small figures in a post or staff-like form.
Mumuye artists are famous for their wooden statues known as iagalagana. Even though the Mumuye show great respect for their ancestors, their statuary does not depict ancestors, but rather incarnates tutelary spirits. The statues reinforce the status and prestige of their owner who, as he holds them in his hands, has a dialogue with them and thus ensures his personal protection. The functions of sculptural figures are varied. They are used by both diviners and healers, whose professions included diagnosis and cure of ill health and other kinds of misfortunes. The figures were used to greet rainmaker's clients, guard the house, serve as owner's confidant, and in trials when men in dispute swear on the statue. It is not unusual for a figure simultaneously to serve two or more functions.
Peoples such as the Mumuye, the Chamba, the Jukun, the Wurkun and the Montol live along the Benue River in eastern Nigeria.
RETURN TO JUKUN MASK AND FIGURE PAGE
GO TO MUMUYE OBJECTS PAGE
GO TO MUMUYE FIGURES 1 PAGE
GO TO MUMUYE FIGURES 2 PAGE
GO TO MUMUYE FIGURES 3 PAGE
GO TO MUMUYE FIGURES 4 PAGE
RETURN TO AFRICAN SELECTIONS 5 EXHIBITION PAGE