KETE MASKS
Kete Masks 1 and 2 have been vetted as authentic, with signs of age and use.

---
KETE STYLE MASKS
Despite their traditional form and appearance, Kete masks 3 - 7 show no signs of use and were probably made to be sold.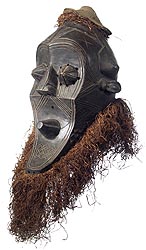 KETE STYLE
Mask 4
27" high
$700

The Kete masks below have been sold and are left here for reference and educational purposes.




The Kete people lived along the southern border of the Kuba kingdom. Their helmet masks have similarities to several types of Kuba masks, with abstract geometric patterns executed in paint or carving, conical eyes, raffia woven caps and attachments.

GO TO MASKED, I ADVANCE EXHIBITION PAGE
GO TO NEW ADDITIONS PAGE