NGOMBE NGULU SICKLE BLADE 70, DRC
The sickle blade below has been vetted as authentic.
---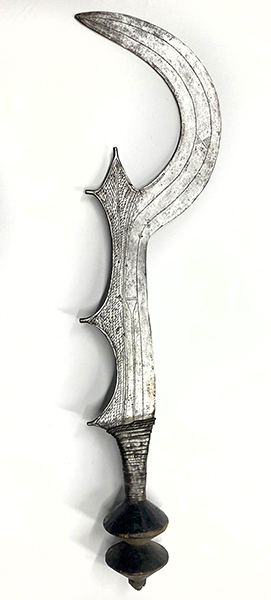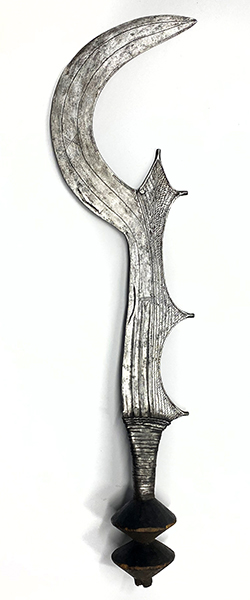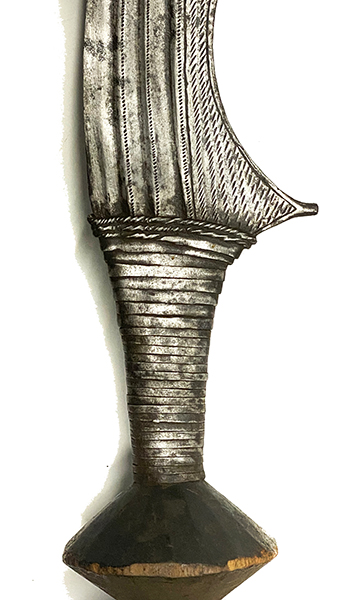 Photographs © Hamill Gallery

NGOMBE
NGULU SICKLE BLADE 70
25.75" high x 6.75" wide x 3" deep
DRC
$400


"This piece was made between 1950 and 1975. The tiip on the bottom of the handle is broken.
The Ngulu sickle blade (also called Ngolo, Ngwolo, M'Bolo, Gulu, Ntsaka, Bwakoya, or Mbeli na Banz) is often erroneously labeled an "executioner's knife" in the Western world. While many stories purport the use of these blades in executions of animals and humans, such stories seem to be more the work of Westerners intent on depicting the savagery of primitive Africa (indeed, the zeitgeist of the early 20th century) rather than the whole truth. Manufactured by the Ngombe ("men of the forest"), the Ngulu is a heavily decorated asymmetrical iron blade with an embellished wooden handle that is exuberant and beautiful. Gosseau asserts these blades were insignia of prestige, ceremonial dance implements, and valuables used for exchange (currency).
Interestingly, Gosseau describes in detail the process by which these blades were incised: 'engravings are made by chasing a pointed hammer with another hammer along the heated blade. On the edge side, a think line - actually a succession of short strokes engraved on the cold blade with a sharp metallic tool - runs along the whole length' (Gosseau, Tribal Arms Monographs, Vol. 1/No. 2, 1997)."

---Ethan Rider www.ertribal.com


GO TO LOOKING SHARP EXHIBITION PAGE
MJM07062017