YORUBA OKO PRESTIGE STAFF 7, Nigeria
The staff below has been vetted as authentic.
---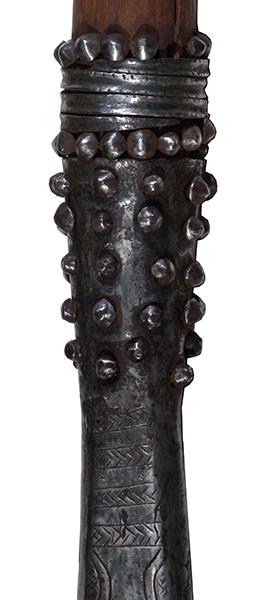 Photographs © Hamill Gallery

YORUBA
OKO PRESTIGE STAFF 7
Forged iron, heavy-gauge flattened iron, wood, iron tacks
53 1/2" high x 2 1/2" wide x 2 1/2" deep
Nigeria
$1500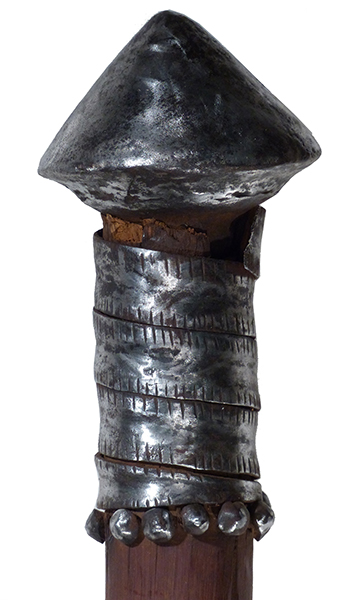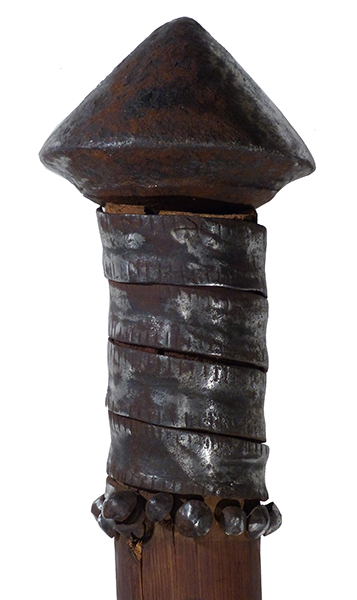 "Oko staffs were historically brought home by pilgrims who had visited the shrine of Oko, a diety in the extended Yoruba pantheon connected with the farm. When not in use, these staffs were protected by a beaded sheath that prevented the staff from touching the ground. The thick iron components were forged out of repurposed hoe blades, another nod to the significance of farming (Westerdijk, African Metal Implements, 1984).
Fischer and Zirngibl provide a colorful narrative of this sword's meaning: 'In the western and northern sections of the Yoruba country, forged steel swords are used that resemble the massive two-handed swords of the Middle Ages. The tulle-covered hilts clearly show them to be unsuitable as weapons. They cannot be used for slashing or thrusting. Nevertheless, they symbolize the power of the sword and are kept in cloth scabbards embroidered with pearls... The scabbards totally enclose the swords... so that the entire sword remains hidden from the uninitiated (Afrikanische Waffen, 1978).'
Like most Oko staffs, this piece wears a cross in the central rectangle that signifies a crossroads, another meaning-laden symbol for the Yoruba (Ginzberg, African Forms, 2000)."

---Ethan Rider www.ertribal.com


GO TO LOOKING SHARP EXHIBITION PAGE
MJM07052017