ZANDE / AVUNGARA / BARAMBO THROWING KNIFE 63, CAR / DRC
This throwing knife has been vetted as authentic.
---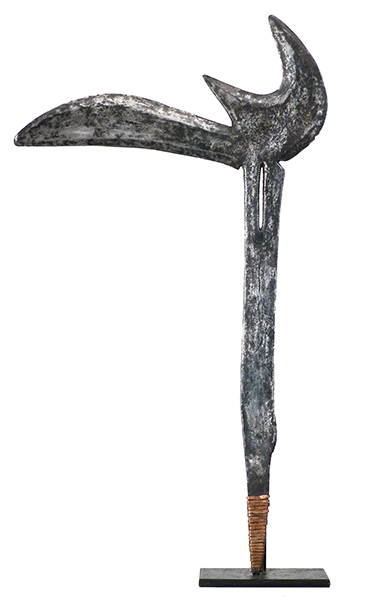 Photographs © Hamill Gallery

ZANDE / AVUNGARA / BARAMBO
THROWING KNIFE 63
17 1/2" high x 10" wide x 1/8" deep
CAR / DRC
$200
SOLD
"Despite having lost its spur, which constituted a major part of the blade, this piece is interesting because the tapering stem at the base represents a more rare style; one that would have had a rigid (wood or ivory) handle attached.
This type of throwing knife - one of the most immediately recognizable African forms-comes from the high savannas and dense forests that lie across the border of the Central African Republic and D.R. Congo. Utilized by the Zande, Avungara, Barambo, and other Zande-related groups, this type of throwing knife, known as kpinga, was a primary tool in the Zande's expansion and protection of their territory in the 18th and 19th centuries. In the 20th century, kpinga knives remained elite weapons carried by royal bodyguards and court attendants, and were often the prerogative of unmarried men. As symbols of ethnic pride and tribal authority, they were not used for hunting."
---Ethan Rider www.ertribal.com


GO TO LOOKING SHARP EXHIBITION PAGE
MJM06232017