KUBA SPEAR 7, Dem. Rep. of Congo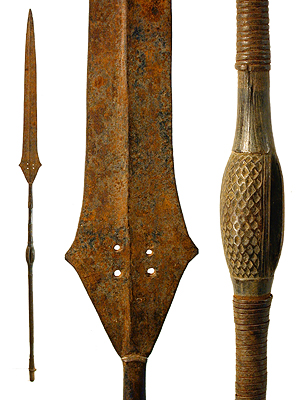 Photographs © Tim Hamill
KUBA, SPEAR 7, 30.5 - 60", $200, SOLD
The first measurement is the length of the blade, the second is the blade plus the shaft.
Knives, axes, currency blades and spears, all made of forged iron, attest to the skills in metal of the Kuba and related peoples of central Africa. Most exhibit an inventive variety of form and workmanship far beyond what was functionally necessary.
I am using the designation Kuba generically. Specialists in the field will identify these pieces much more specifically and accurately. The spears are unmounted. Some tips separate from the shaft for shipping, others do not. Shafts are all wood, wood and metal, or wood embellished with metal coverings.
RETURN TO AFRICAN WEAPONS PAGE
RETURN TO AFRICAN WARRIORS EXHIBITION PAGE
RETURN TO METALWORKS EXHIBITION PAGE
[RETURN TO HOME PAGE] [CONTACT GALLERY] [ORDERING] [HYPERLINKS]