LEGA STYLE FIGURE 13, DRC
Despite its appearance, we believe this figure was made to be sold.
---





Photographs © Hamill Gallery
LEGA STYLE
FIGURE 13
25.5" high x 6.5" wide x 7.25" deep
DRC
$500
The figure is nicely embellished with upolstery tacks. There are small wedges of wood missing from the front and back of the base.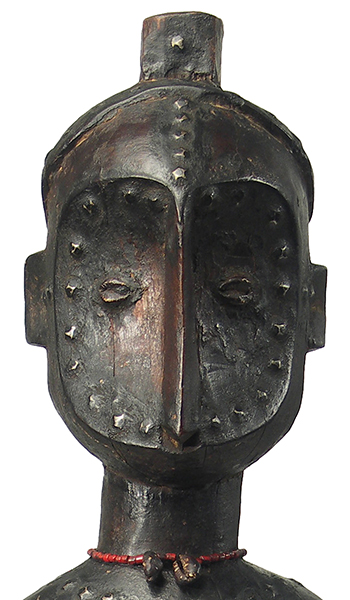 GO TO LEGA POSTS AND FIGURES PAGE
GO TO AFRICAN FIGURES PAGE
GO TO LEGA BWAMI MASKS ARCHIVES PAGE (ALL SOLD)
GO TO LEGA BWAMI MASKS 2 PAGE
GO TO MASKS PAGE
GO TO AFRICAN SELECTIONS 6 PAGE