Photographs © Hamill Gallery
LENGOLA STYLE FIGURES, DRC
These figures (only number 1 remains), called ubanga nyama represent Suway, an ancestral founder of the Lengola. One such figure would have been exhibited in the center of the village, after the burial of the high-ranking mungamba dignitary, to allow men to make invocations. (from African Arts, January 1977, page 54.) These exhuberant yet haunting figures come in six pieces plus the base. The arms, legs and head/neck detach from the torso and have to be wedged and lightly glued in place in order to stand. For shipment, they would be taken apart and have to be reassembled.
Figures 27 - 30 are different, in one solid piece.
Despite their appearance, these figures show no signs of age or use and were probably made to be sold.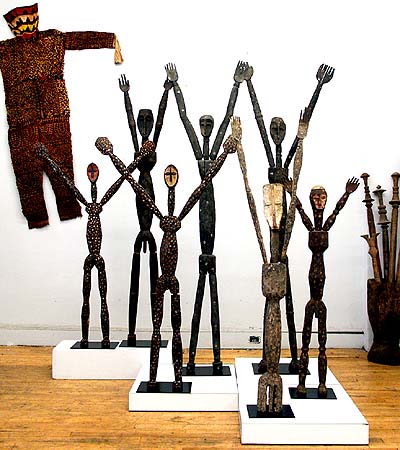 These have been sold, several of them to Rand of Rand African Art.