LUBA STYLE RATTLE 12, Dem. Rep. CONGO
Click on a name to see a larger image.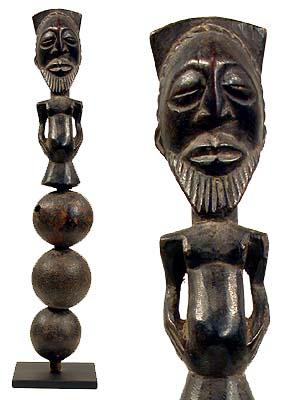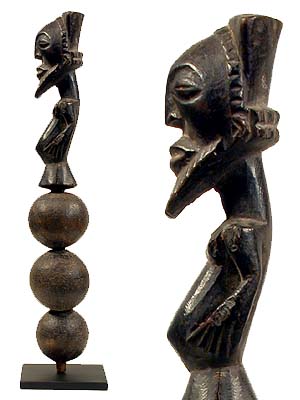 Photographs © Tim Hamill
LUBA, Rattle 12, 10.5", Figure height 5", $200, Congo
Most Luba art relates to kings and important chiefs, who defined their power by the display of prestige objects during important ceremonies. Dance rattles such as these all function, with seeds inside the guord sections, but were also used for display. Elaborate coiffures and scarification patterns attested to the high rank of both the depicted figure and the owner of the rattle. Similar in style and quality as Luba stools, headrests and other objects, these small figures are among the most prized in Africa.
The heights listed are of the total rattle, then just the figure. All are mounted on 2" square iron bases, which are included in the price.
RETURN TO AFRICAN FIGURES PAGE
[RETURN TO HOME PAGE] [CONTACT GALLERY] [ORDERING] [HYPERLINKS]