NDEBELE BEADWORK, SOUTH AFRICA
BRIDAL TRAINS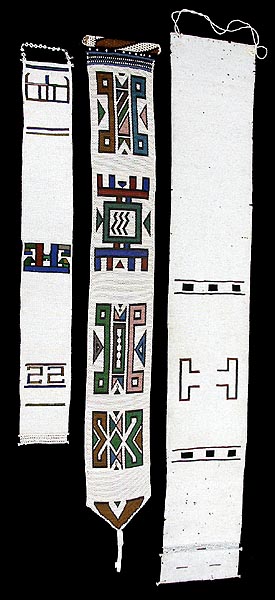 Photographs © Bobbi Hamill
NDEBELE, Beadwork, South Africa
Bridal Train 1, 40.5" l. x 5.25" w., $300, SOLD
Bridal Train 2, 60" l. x 8" w., SOLD
Bridal Train 3, 64" l. x 10.5" w., $600, SOLD
These beaded veils are given as gifts to the brides who wear them on their wedding day.
------------------------------

"MOTHERS TEARS"
The beaded pieces below have been sold and are left here for reference and educational purposes.
Click on a name to see a large detail of the item.

Photographs © Bobbi Hamill
NDEBELE, Beadwork, South Africa
Mother's Tears Strip 1, 54" l. x 1.5" w., $100, SOLD
Mother's Tears Strip 2, 56" l. x 2" w., $125, SOLD
Mother's Tears Strip 3, 58" l. x 2" w., $150, SOLD
These beaded strips, called Mother's Tears are worn by women to signify the tears they cry as their sons become men.
GO TO NDEBELE BEADED APRONS PAGE
GO TO AFRICAN BEADWORK PAGE