PUNU STYLE SCULPTURE, Gabon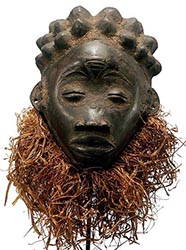 ---
The Punu objects below have been SOLD and are left here for reference and educational purposes.

Photographs © Hamill Gallery

PUNU STYLE SCULPTURE
Masks like these white-faced masks represented the spirit of an ancestor from the afterworld and were often used by stilt dancers for funeral rituals. They are known for their elegant features, forehead scarification patterns and elaborate coiffures. Despite their appearance, these masks show little evidence of age or use and were probably made to be sold.
The bellows exhibit the traditional African ability to making everyday functional objects also things of artistic merit. Once functioning bellows for a blacksmith's forge, some are complete, including the two metal end pipes which extended out from what are seen here as the bottoms. We have included only one figure, which are rare among the Punu.
GO PUNU MASKS ARCHIVES (ALL SOLD)