OUTSIDE THE GALLERY
OUR EXHIBITS

For a listing of the more than 120 exhibitions we have put on, see
Gallery History.
As a community service and to increase the knowledge of, and interest in , African Art we have arranged and exhibited more than 77 exhibitions of traditional African art at museums, university and school galleries, public and private institutions, all at no cost to the hosting group. One of our most recent was at the Boston Architectural Center in Boston.



African Traditional Art & Design
Dec. 15 - Jan. 30, 2001 Boston Architectural Center


OTHER EXHIBITS AND EVENTS OUTSIDE THE GALLERY


Heads and Tales, Adornments from Africa, the Peabody Museum, Harvard University, Cambridge, Mass. Dec. 8, 1999 - Dec. 2001.



Art of Africa, Permanent Collection,Museum of Fine Arts, Boston, MA
The Art of Identity: African Sculpture from the Teel Collection", Fogg Art Museum, Harvard University, 32 Quincy St., Cambridge. Mon-Sat 10-5 Sun. 1-5. $5. 495-9400

Baule: African Art/Western Eyes, Yale University Art Gallery, New Haven, Conn. Curated by Susan Vogel. Open Tue-Sat 10-5 and Sun 1-6. Aug. 30-Jan. 4, 1998. Admission is free. (203) 432-0600
---
The Haffenreffer Museum of Anthropology, associated with Brown University is showing "African Worlds, African Art: The William W. Brill Collection", part of a wonderful donation to their museum. The museum is located at 300 Tower St., on Mount Hope Grant in Bristol, R.I. and also exhibits their permanent and major collection of North American Indian artifacts. Definitely worth seeing! Through 1996.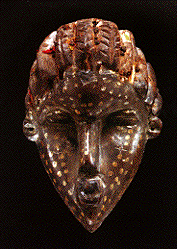 Mask, Bassa. Liberia , Haffenreffer
[RETURN TO HOME PAGE] [CONTACT GALLERY] [ORDERING] [HYPERLINKS]