SONGYE POWER (FETISH) FIGURE 48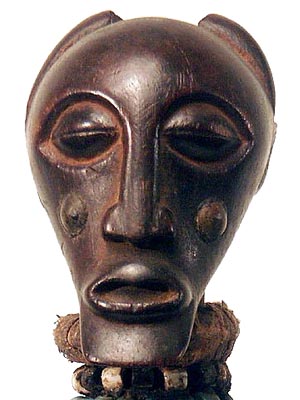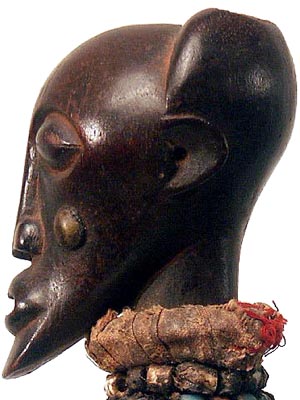 Photographs © Tim Hamill
SONGYE, POWER FIGURE 48, 11", $300, SOLD
Authentic fetishes are very rare. Despite its appearance, this fetish was probably made to be sold.
The Songye made power figures, Nkisi (singular) and Mankishi (plural), to combat witchcraft and sorcery. They were benign and were believed to bring good, promote fertility and success, vanquish enemies and protect from evil. Large ones were owned by and served the community; small ones were for individual families. Adorned with additional objects, Bajimba, with magical properties (horns, skins, teeth, hair, feathers, beads, tacks, cloth, etc.), they gained their power not from the carver but from the Nganga, or spiritual leader. Their carving was considered secondary to their power. Often too powerful to touch, they were moved with long sticks. Although protective, these are confrontational objects, with a warrior's attitude.
Many of the features show a relationship to the masks of the Kifwebe association.
RETURN TO SONGYE FETISH FIGURES PAGE 2
GO TO SONGYE FETISH FIGURES PAGE 1
GO TO SONGYE SCULPTURE EXHIBITION PAGE
GO TO FETISHES (VARIOUS TRIBES) PAGE
[RETURN TO HOME PAGE] [CONTACT GALLERY] [ORDERING] [HYPERLINKS]