SUKUMA STYLE DANCE FIGURE 11, Tanzania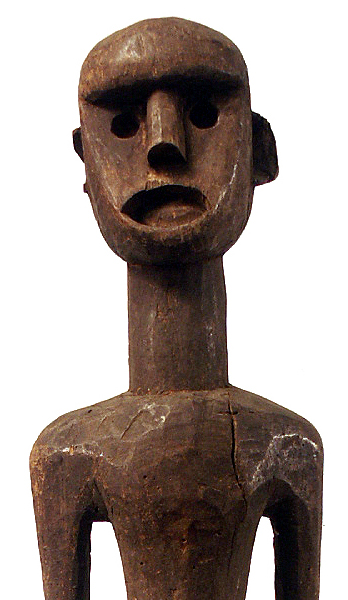 Photographs © Tim Hamill
SUKUMA STYLE
DANCE FIGURE 11
52" high
$600
Tanzania
Despite its appearance this Sukuma figure was probably made to be sold.
Little is known of these strange figures, danced by the Sukuma a northern Nyamwezi people. Features are undistinguished, gender is often undefined. The figures, called mabinda, with moving parts (present or missing) are used in very theatrical, competitive and often provocative dance performances. The other figures relate to grave markers or are part of a chief's treasury. Nyamwezi figures are often similar but usually with inset beaded eyes.
There is a good article on the Sukuma dance figures by Aimee Bessire in the Spring 2005 issue of African Arts.
GO TO AFRICAN FIGURES PAGE
GO TO AFRICAN PUPPETS PAGE
GO TO NEW ADDITIONS PAGE