TSOGO STYLE POST 20, GABON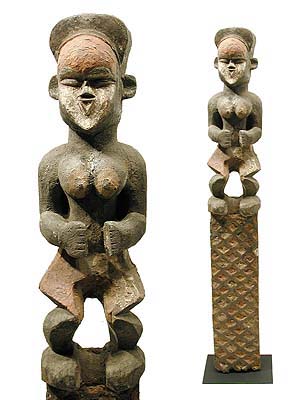 Photographs © Tim Hamill
TSOGO STYLE
POST 20
43" high
$500
Despite its traditional appearance and wonderful patina, this Tsogo post was probably made to be sold.
Tsogo posts are connected with the Bwiti men's initiation society. The figures represent ancestors and harnessed their power to protect the house. Many are encrusted with cracking paint and offerings to the ancestors.

Some are houseposts, some have a V-shaped top to hold a beam, some are pillars and some end in a figure and function only as a commerative post.
Many of the figures share the muscular tension found in neighboring and better-known Fang figures.
RETURN TO TSOGO POSTS PAGE

GO TO TSOGO ART PAGE