YORUBA BEADED CROWN 8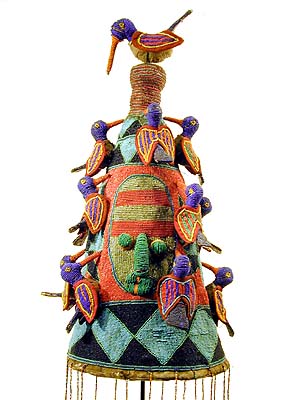 Photographs © Hamill Gallery

YORUBA, BEADED CROWN 8, Nigeria, 25", $700, SOLD
Traditionally, Yoruba crowns were worn by the king, or Oba, in public ceremonies. They were embellished with symbolic designs. Beads were signs of wealth and status.
Most of these are contemporary and were probably made for sale rather than for use by a king.
The veil, here incomplete, was to separate the divine king from mortals. It has 20 strands, averaging 12" long. The opposite side of the crown is similar, with a face and more attached birds.
GO TO YORUBA CROWNS PAGE

GO TO YORUBA CROWNS ARCHIVES PAGE (ALL SOLD)
GO TO YORUBA BEADWORK PAGE
GO TO YORUBA ART PAGE
GO TO AFRICAN BEADWORK PAGE
GO TO YORUBA SASHES PAGE
GO TO YORUBA BAGS PAGE